How to start a conversation with children about mental health
It can feel difficult to start a conversation with children about mental health. This may be because you don't feel equipped with the information you think you may need, or lack confidence about how you even open up the conversation. Adults can also be concerned that they may not have the answers to children's questions or that they might say something 'wrong'.
But the good news is that you are used to working with children and are able to use language that they can understand. There are also a number of excellent resources available to help.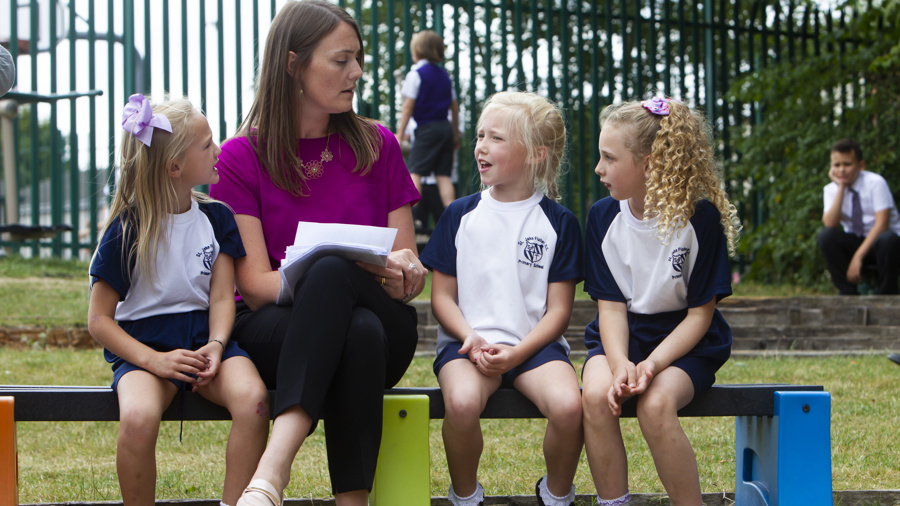 Why talk to children about mental health?
We want to help children understand and appreciate that, just like our physical health, we all have mental health. We can also help them to recognise that we all respond to experiences with our emotions, feelings, thoughts and behaviours.  
It's important too that children understand how there can be changes in their bodies which are connected to their feelings and thoughts – for example, just as in PE, when our heart beats very quickly after we have been running, the same is true when we are nervous or scared.
By helping children with these concepts and getting them to think about how feelings and thoughts are linked to behaviour, we can then explain how a combination of all these elements affects our mental health.
Calmly and confidently opening up conversations in our classrooms, dining rooms and playgrounds can encourage children to discuss, to learn and realise that mental health is something we all have and that we should be aware of it and learn skills to look after it. That there might be days when we feel sad or we struggle and other days when we feel confident and calm. Importantly, we can have a conversation about asking for help when we need support.
See our page on depression to help distinguish between a child feeling a bit down and a more serious underlying problem.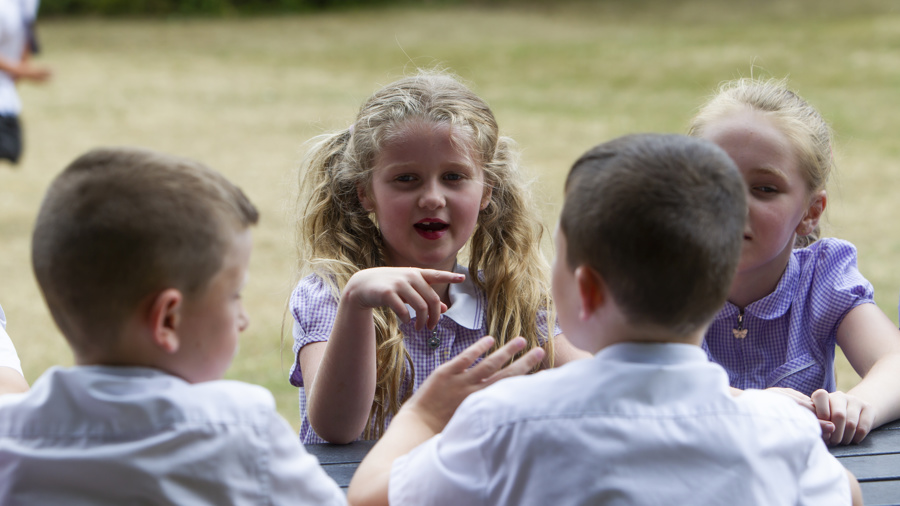 What schools can do
Conversations about mental health will be more effective in the context of a positive whole-school environment, where:
There is an ethos of constructive, caring relationships across the school built on trust, kindness, safety and security.
There is a sense of belonging and children are encouraged to talk to staff about worries and difficulties.
Children have been taught good social and emotional skills and are able to identify feelings, thoughts and emotions. A number of whole-school, targeted and PSHE lessons are available to help children develop these skills. See, for example, PSHE lesson plans such as Northern Ireland personal development and mutual understanding modules
Circle time is used to routinely share feelings, thoughts and emotions.
All staff are encouraged and supported to be alert, watchful and curious about children's behaviour, their body language, their interaction with other pupils, what they say, what they draw and what they do in school.
There is a strong foundation of good staff mental health and wellbeing. 
Not all staff will feel comfortable about opening up conversations on child wellbeing. It is important that school staff have good quality training and ongoing support from the senior leadership team to help with confidence in this area.
Starting a conversation
Ideally conversations will be opened up by a classroom teacher, a well-liked and sensitive teaching assistant or a playground staff member who is well-known to a child/children (rather than a supply teacher).
Every school should make sure that anyone working or interacting with children understands safeguarding procedures and has the necessary training.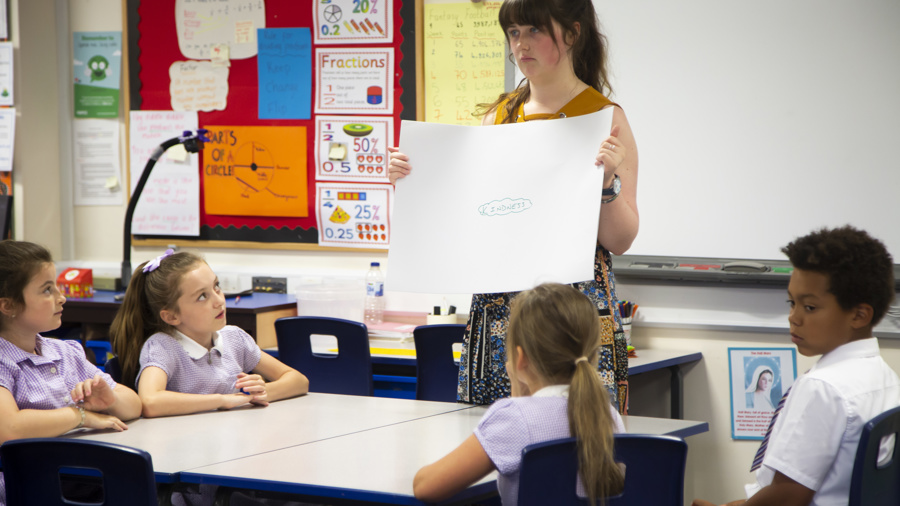 Talking about mental health in class/group
Make conversations about mental health a normal part of class discussion so that children feel increasingly comfortable about the topic. Focus your attention; make eye contact with children; really connect.
Ask open questions to encourage children to think and give their opinions.
Encourage respect for different views.
Demonstrate empathy so that if children start to feel safe enough to talk about any struggles they may have, you are showing them how to respond.
While you are having discussions, you have a perfect opportunity to increase their emotional vocabularies to help them explain how they are feeling.
Keep an eye out for any children who might show signs that they are struggling with their mental health and talk to your designated safeguarding lead (DSL) if you are worried.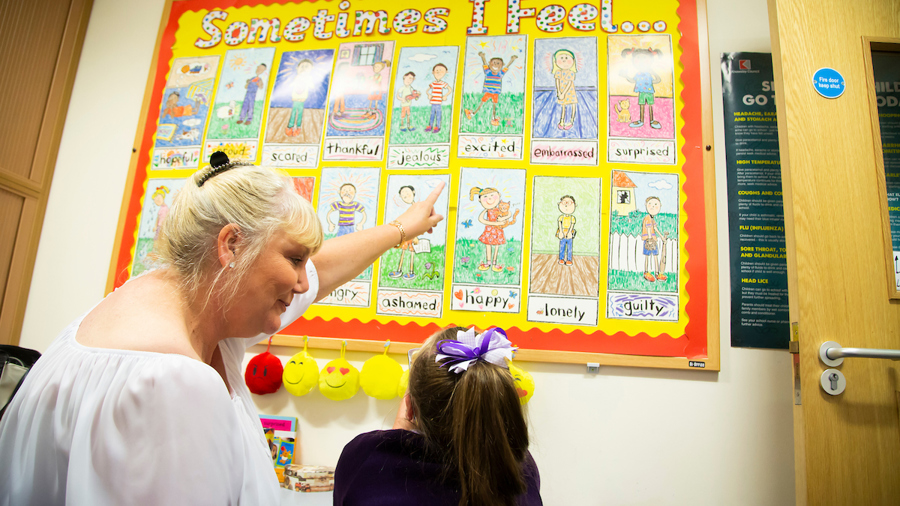 Talking about mental health with a child
Find an appropriate time and relaxed place to have a conversation with a child you might be concerned about.
If a child discloses in class, offer empathy, invite them to talk in a safer, more private setting and talk to your designated safeguarding lead (DSL) for advice about how the situation should be managed.
If you invite a young person to tell you their personal issues, be clear what you will do with this information. Consider how you will respond if asked 'not to tell anyone'.
The staff member involved should be familiar to the child whenever possible.
Sit on a low chair if you can – so there is less height difference and you will be more approachable.
Simply explain why you are there. For example, 'you said something interesting in circle time about how you felt when… How do you feel about it now?'
Check with the child if there are other trusted adults (parents, the wider family, teachers) or friends they have talked to or could talk to.
Listen carefully, be patient and friendly and give your full attention.
Check your body language so that the child knows you are focusing on them.
Take what they're saying seriously. Don't over-react but don't try to minimise or dismiss what they are saying. Ask open questions to encourage them to talk.
Be calm and acknowledge their feelings.
For young children drawing, modelling or playing with toys while the conversation is progressing can be helpful.
Offer empathy and understanding rather than solutions. When a child receives empathy they begin to develop trust.
Remember we are all different and children will respond in their own unique way to their experiences.
Remember that children with SEND (special educational needs & disability) may struggle even more to articulate their feelings and thoughts and may need extra support. See this factsheet from I CAN  which outlines techniques to help children with speech, language and communication needs and includes useful general guidance.
Note: When protecting and supporting children, there are always limits to confidentiality. Talk to your designated safeguarding lead (DSL) if you are at all concerned and follow your school's safeguarding policy/procedures. Make sure the child knows you may seek advice or guidance from other professionals.
Some ways we can start a conversation with a child
You don't seem your usual self today. Would you like to talk about anything?
You look sad/worried today. Do you want to have a chat about it/is there anything I can do to help?
You said something interesting in circle time about how you felt when… How do you feel about it now?