Anti-Bullying Week 2020: primary lesson PowerPoint
A PowerPoint lesson to run in primary schools for Anti-Bullying Week, about how we can all unite against bullying.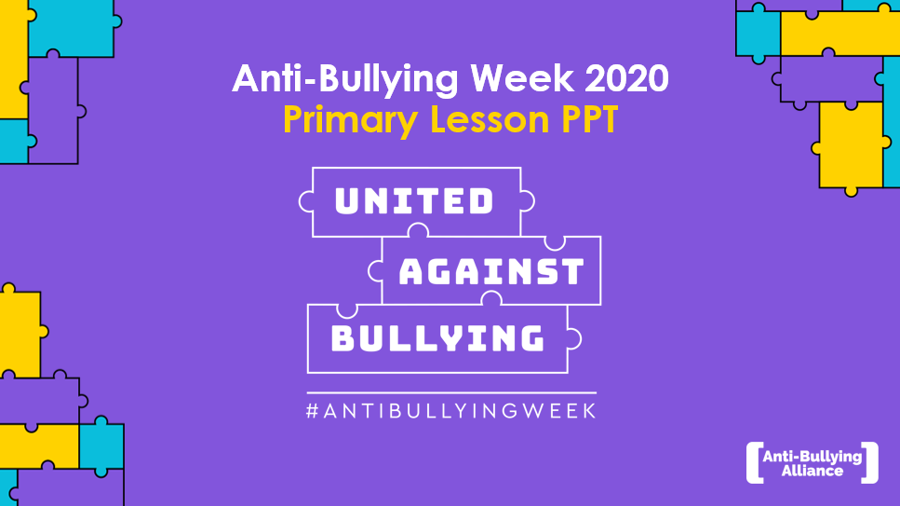 The theme for Anti-Bullying Week 2020 is 'united against bullying'.
This PowerPoint, along with accompanying teacher notes, helps children think about bullying as a group behaviour. It explores the different roles involved in a bullying scenario, like ringleader, reinforcer or defender.
The lesson also encourages class discussion about what more could be done in school to tackle bullying. 
Using this resource
This resource is designed for use with:
primary school children
whole classes
This lesson forms part of the Anti-Bullying Alliance's primary school pack for Anti-Bullying Week 2020. The pack also includes:
A primary school film 
An assembly plan
Cross curricular activities 
Ideas to help you bring Anti-Bullying Week to life 
Handouts and PowerPoint presentations 
An Anti-Bullying Week school poster 
Curriculum links
England - RSHE

Caring friendships

Pupils should know:

• that healthy friendships are positive and welcoming towards others, and do not make others feel lonely or excluded

Respectful relationships

Pupils should know:

• about different types of bullying (including cyberbullying), the impact of bullying, responsibilities of bystanders (primarily reporting bullying to an adult) and how to get help

Northern Ireland – Personal Development and Mutual Understanding

Mutual understanding in the local and wider community

Pupils should be enabled to explore:

• their relationships with family and friends (Foundation)

• initiating and developing mutually satisfying relationships; (KS1)

• initiating, developing and sustaining mutually satisfying relationships; (KS2)

Scotland – Health and Wellbeing

Mental and Emotional Wellbeing

• I know that friendship, caring, sharing, fairness, equality and love are important in building positive relationships. As I develop and value relationships, I care and show respect for myself and others.

Wales – Health and Wellbeing

Statement 5 - Healthy relationships are fundamental to our well-being.