Exam stress advice booklet for students
This booklet offers practical tips and advice for students on coping with exam stress and feelings of worry.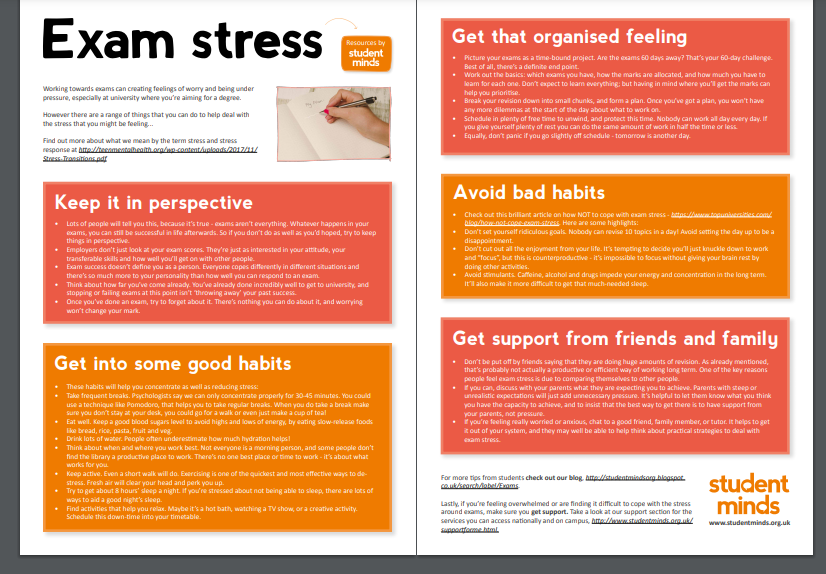 The tips and advice provided in this booklet aim to help students cope with exam stress, including tips on keeping perspective, maintaining good habits and seeking support.
Using this resource
This resource is designed for:
young people aged 14 to 19
Curriculum links
England - RSHE

Mental health and wellbeing

By the end of secondary school pupils should know:

· how to recognise the early signs of mental wellbeing concerns.

· the benefits and importance of physical exercise, time outdoors, community participation and voluntary and service-based activities on mental wellbeing and happiness.

Physical health and fitness

· the positive associations between physical activity and promotion of mental wellbeing, including as an approach to combat stress.

Northern Ireland – Learning for Life and Work

Self Awareness 

KS3 pupils should have opportunity to:

· Explore the different ways to develop self-esteem

· Develop skills and strategies to improve own learning

Personal Health

KS3 pupils should have opportunity to:

· Develop understanding about, and strategies to manage, the effects of change on body, mind and behaviour

Key Stage 4 pupils should be enabled to:

· develop an understanding of how to maximise and sustain their own health and well-being

· reflect on, and respond to, their developing concept of self, including managing emotions and reactions to on-going life experiences

Scotland – Health and Wellbeing

Mental and emotional wellbeing

· I know that we all experience a variety of thoughts and emotions that affect how we feel and behave and I am learning ways of managing them.

· I understand that there are people I can talk to and that there are a number of ways in which I can gain access to practical and emotional support to help me and others in a range of circumstances.

Planning for choices & changes

· Based on my interests, skills, strengths and preferences, I am supported to make suitable, realistic and informed choices, set manageable goals and plan for my further transitions.

Wales - Health and Wellbeing

Developing physical health and wellbeing has lifelong benefits

Progression step 3: I can explain the way in which physical and emotional changes are connected in different contexts, and I can monitor, review and adapt my behaviour to support my physical and emotional health, setting myself relevant targets.

Progression step 4: I can analyse the connection between physical and emotional changes. I can modify my behaviour to support my physical and emotional health, and can work collaboratively to plan and refine strengths and areas for improvements.

Progression step 5: I can evaluate the connection between physical and emotional changes, independently selecting from a range of strategies to improve my physical and emotional health and that of others.