Faith in yourself: a guide to being religious and LGBTQ+
This mini guide shares a selection of stories and advice from LGBTQ+ people of faith of all ages and backgrounds.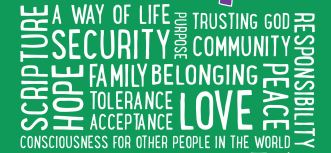 This guide is designed for use by young people, and it explores the intersection of religious beliefs and LGBTQ+ identities. It shares quotes and stories from LGBTQ+ religious people about how they navigate these identities.
This guide is a mini version of a longer guide from the Proud Trust.
Using this resource
This resource is designed for:
young people aged 11 and up
use by individual young people
Curriculum links
England - RSHE

Respectful relationships, including friendships

By the end of secondary school pupils should know:

· how stereotypes, in particular stereotypes based on sex, gender, race, religion, sexual orientation or disability, can cause damage (e.g. how they might normalise non-consensual behaviour or encourage prejudice)

Northern Ireland – Learning for Life and Work

Diversity & Inclusion

KS3 pupils should have opportunity to:

· Investigate factors that influence individual and group identity

· Investigate ways in which individuals and groups express their identity

Scotland – Health and Wellbeing

Social wellbeing

· As I explore the rights to which I and others are entitled, I am able to exercise these rights appropriately and accept the responsibilities that go with them. I show respect for the rights of others.

· I recognise that each individual has a unique blend of abilities and needs. I contribute to making my school community one which values individuals equally and is a welcoming place for all.

Wales - Health and Wellbeing

How we engage with social influences shapes who we are and affects our lives and wellbeing

Progression step 3: I have an understanding of the rules, norms and behaviours of different groups and situations, and I recognise that these have an influence on me.