The science of decision making and peer pressure lesson
This lesson will help your students understand how their brains make decisions, the influence of their peers on those decisions, and what they can do to better navigate peer pressure situations.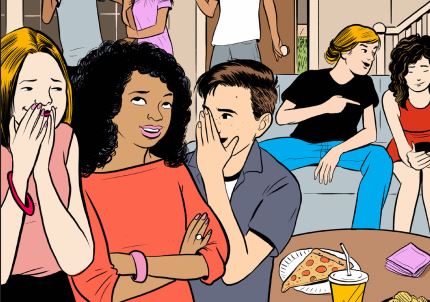 Peers can play a big role in how teens make decisions, in both positive and negative ways. This lesson pack includes a guide for teachers, worksheets for students, an article about the science of peer pressure and additional support resources.
This resource is from a US organisation, but the content is still applicable for UK schools.
Using this resource
This resource is designed for:
young people aged 9 to 13
use with whole classes
 The staff member running this lesson should be aware of individual students and differing needs, especially around culture/community and general mental health and wellbeing. Teachers should signpost students support pathways if they are needed.
Curriculum links
England - RSHE

Respectful relationships, including friendships

By the end of secondary school pupils should know:

· the characteristics of positive and healthy friendships (in all contexts, including online) including: trust, respect, honesty, kindness, generosity, boundaries, privacy, consent and the management of conflict, reconciliation and ending relationships. This includes different (non-sexual) types of relationship.

Northern Ireland – Learning for Life and Work

Relationships

KS3 pupils should have opportunity to:

· Explore the qualities of relationships including friendships

· Develop coping strategies to deal with challenging relationship scenarios

Scotland – Health and Wellbeing

Relationships, sexual health and parenthood

I recognise that power can exist within relationships and can be used positively as well as negatively.

Wales - Health and Wellbeing

How we engage with social influences shapes who we are and affects our lives and wellbeing

Progression step 3: I have an understanding of the rules, norms and behaviours of different groups and situations, and I recognise that these have an influence on me.