What's your pronoun assembly
An assembly exploring what pronouns are and why people might use different pronouns.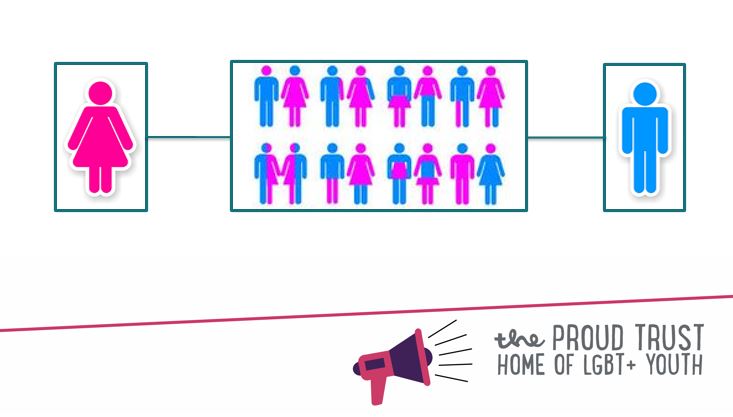 Your pronoun is the way in which you refer to yourself, often relating to the way you experience your gender. Common pronouns include "he/him", "she/her" and "they/them".
This PowerPoint assembly from The Proud Trust explores the different pronouns and why we shouldn't assume someone's pronouns.
Using this resource
This resource is designed for:
young people aged 11 to 13
use with whole classes or year groups
 This PowerPoint serves as an introduction to gender identity issues, and would be best used as part of scheme of work on LGBTQ+ issues.
Curriculum links
England - RSHE

Respectful relationships, including friendships

By the end of secondary school pupils should know:

· how stereotypes, in particular stereotypes based on sex, gender, race, religion, sexual orientation or disability, can cause damage (e.g. how they might normalise non-consensual behaviour or encourage prejudice)

Northern Ireland – Learning for Life and Work

Diversity & Inclusion

KS3 pupils should have opportunity to:

· Investigate factors that influence individual and group identity

· Investigate ways in which individuals and groups express their identity

Scotland – Health and Wellbeing

Social wellbeing

· As I explore the rights to which I and others are entitled, I am able to exercise these rights appropriately and accept the responsibilities that go with them. I show respect for the rights of others.

· I recognise that each individual has a unique blend of abilities and needs. I contribute to making my school community one which values individuals equally and is a welcoming place for all.

Wales - Health and Wellbeing

How we engage with social influences shapes who we are and affects our lives and wellbeing

Progression step 3: I have an understanding of the rules, norms and behaviours of different groups and situations, and I recognise that these have an influence on me.