Risks and protective factors
This section of the site helps school staff understand the many risk factors that may challenge and undermine children's mental health.
It also helps schools understand what they can do (on their own and working with partners) to help build good mental health and resilience, and reduce the risks that can harm children's mental health.

Children's mental health is best understood as a spectrum. It is shaped by a complex relationship between genetic make-up, external risks jeopardising their social and emotional development, and protective factors that shield them from these risks.
What are risks?
Risks come in many forms. They can be linked to differences in a child's temperament (for example, being more emotionally placid or more volatile) as well as the result of exposure to harmful experiences, environments or events within the family, friendships, school, community, or more broadly in society (e.g. through discrimination, poverty, homelessness etc.).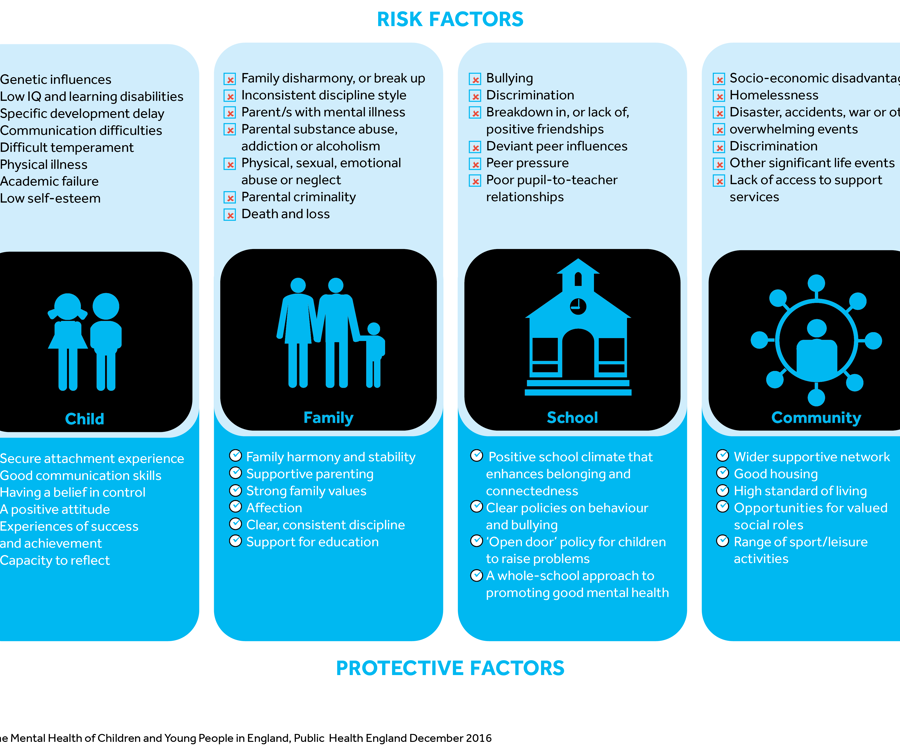 What is resilience?
Not all children exposed to risks develop mental health difficulties. Resilience is the ability to cope and thrive despite facing setbacks in life. Some children are naturally more resilient than others, but it is a skill that can be taught. For example, having the ability to stay calm can be particularly 'protective' when children are faced with difficulties. 
This introductory video from the Harvard Center for the Developing Child looks at what fosters resilience in children.
Resilience is not infinitely elastic
Children are not on a level playing field when it comes to exposure to risk, and resilience is not infinitely elastic. It can be tested when children face multiple 'snowballing' stresses and risks in their lives. 
We also know that certain harmful experiences in childhood (known as Adverse Childhood Experiences – ACEs) can be toxic to children's development, resulting in hidden trauma and potentially leading to later physical and mental health problems, school disengagement and risk-taking behaviours. These adverse childhood experiences include:
For this reason, the ability to cope and thrive is not just about children learning skills, but is also about how adults in children's lives, in their schools and communities take action to offset the family and environmental factors and barriers that can undermine children's ability to flourish.
Top Tips
Take advantage of contact time.
School staff are in an ideal position to help mobilise children's resilience through day-to-day contact.
Be observant and inquisitive.
Notice changes and differences in behaviour.
Show children and families you care.
Be aware of what is going on in a child's life and how complex it might be.
What schools can do to support children's resilience
This website is not about turning school staff into mental health experts. It aims to help you:
Think about why a child is behaving in a certain way and consider other things that are going on in their lives.
Be more alert, informed and systematic in your approach to identifying risks and strengths in a child's life which might be affecting their wellbeing.
Avoid rushing to conclusions about the source of that stress when it is not clear cut. But you can track risks and protective factors affecting resilience as part of your general monitoring of pupils' progress and development.
Use the school environment and everyday opportunities to help promote children's mental health and develop coping skills. For most children, this can help build resilience.
Be aware that some children may also need additional school-based assistance (check-ins with staff, counselling, small group work, SEND resources) to help them manage and get through difficult times.
Work in partnership with parents/carers to help children develop their resilience – this may mean helping parents get help to support their child.
Ensure that these activities sit within a whole-school approach to supporting children's mental health and wellbeing.
Despite all these best efforts, a few children may still go on to develop more significant mental health needs. At this point, school staff will need to know how to help children access broader community-based support such as early help, voluntary sector support, national helplines and specialist CAMHS input.
Resilience resources
Further information and resources about resilience:
Risks and protective factors – what's covered?
On each page in this section of the site, we provide information about key risk factors and how schools can play a major part in helping children build a 'protective shield' against these risks.
There's information on:
Key risks that undermine children's mental health.
How you might spot when a child's wellbeing is deteriorating and when they might be having difficulty managing (see spectrum above).
What schools can do to build and preserve strong mental health, help children cope and prevent them struggling or becoming unwell.
Resources for school staff.
Resources to signpost parents/carers and children to help them mobilise strengths and develop coping skills and resilience.