About school and local commissioning
Schools promote children's social and emotional skills and mental health and wellbeing through the curriculum, PSHE and wider cross-curricular activity – all within an overarching framework of a whole-school approach to mental health.
For children who are beginning to struggle or are exposed to mounting risks that may challenge and undermine their mental health, accessible and effective in-school help can be provided through pastoral support, targeted, small group work or counselling.
With good mental health awareness, school staff can also help steer children and families to more specialist mental health support in the local community.
This section of the site will help you navigate through this process of identifying the needs of children in your school and measuring the impact of what you do. It will help with planning, coordinating, commissioning and facilitating appropriate support and help you understand how you can get involved in, and influence, local commissioning decisions.
What is commissioning?
Commissioning has been described by the NHS as 'getting the best possible health outcomes for the population'. It involves assessing local needs, deciding priorities and strategies, and then purchasing services. It is an ongoing process, adapting and changing to local circumstances.
Commissioning and funding arrangements for promoting and supporting children's mental health can be complex. A 2017 DfE survey, for example, noted that nearly three-quarters of schools cited 'difficulties in commissioning local services' (see executive summary pages 7–12).
Along with other local commissioners schools are significant local commissioners of mental health promotion and early support services for children.
Identifying need
Schools may need to better understand and identify the mental health needs of their pupils and collaborate with other schools to collate data and increase the overview of the needs of local children. Schools may also get a sense of the needs of families. Helping children and families get earlier support can help children thrive and achieve in schools.
The diagram below provides a summary of the range of different support and services schools should draw together to meet the needs of all children, as well as those who are struggling or who may have become unwell.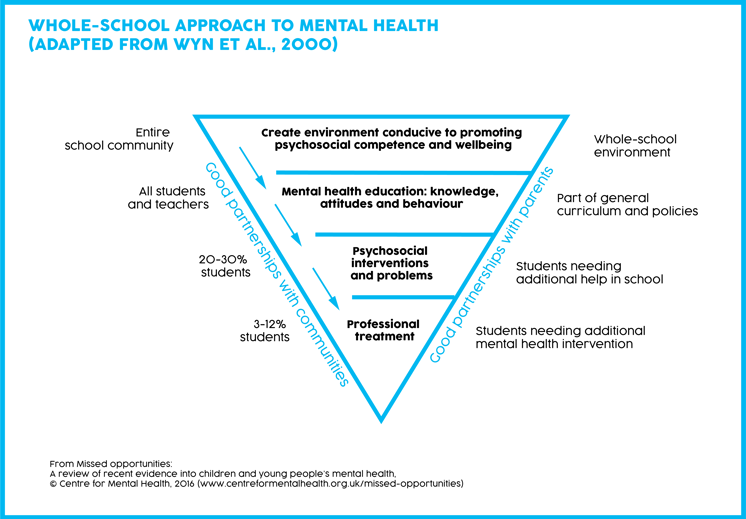 School support should seek to:
Promote the mental health and wellbeing of all children and staff.
Work with partners to provide extra help to those 20 to 30% who may be facing multiple and ongoing risks which undermine their mental health. This may involve a combination of school-based and broader, external support.
Work with partners to help the small number of children who are unwell to get good-quality mental health support. Although school counselling may meet a small proportion of this need, schools will primarily work in partnership with local agencies and organisations, together with specialist CAMHS (Child & Adolescent Mental Health Services) to access appropriate support for children and families.
Understanding your local landscape of support
Schools will already be doing many things to create an effective whole-school approach to supporting all children's mental health and wellbeing, as well as providing targeted support for those children who need extra help.
There will also be a range of support and interventions available in the community, which schools can use for information, advice, support or referral. This could include a number of different health, social and voluntary sector service providers – including national helplines.
What do we mean by CAMHS?
There is potential confusion with the language used to describe the range of services available. Children and Adolescent Mental Health Services (CAMHS) is a term that has been commonly used to describe all services that work with children who have difficulties with their mental health and wellbeing. However, many people use the word CAMHS to describe specialist CAMHS which are generally multi-disciplinary teams, commissioned mainly through NHS funding, who have experience of working with children and young people who have mental health difficulties. These specialist services are actually only designed for around 2% of local children's diagnosable need.
To successfully help children thrive and learn, it is important that schools identify this range of services and support in their area [link to audit, improvement & strategy] – what's available, who provides it and how it might help children in their school. They may do this in partnership with school nurses [link] who have responsibility for mapping local health and social care, together with agencies and organisations who are providing services to support children's mental health needs.
The diagram below illustrates some of the potential range of support and services that might be available to promote and support different levels of need (including staff needs).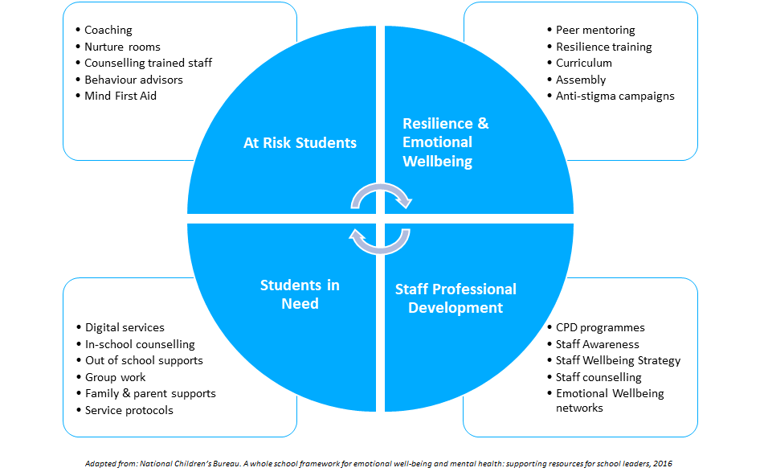 Improving partnership working
Despite being central to local activity to promote and support children's mental health and wellbeing, a recent survey highlighted that many schools feel disconnected from the broader landscape of support and find it difficult to negotiate their way around it.
But working with partners is key to:
Understanding the patchwork of services available and who can offer what help.
Improving confidence through a better knowledge of local help and what works; sharing good practice.
Helping schools and services work more closely to support children who are having treatment and to plan for ongoing support once treatment finishes
Pennine Care NHS Foundation has created a useful local quality assurance framework, checklist and toolkit for their schools (which has wider relevance and use) on how to commission in-house provision and how best to engage with partners systematically and strategically.
Commissioning in your school
If schools identify an unmet need they can either commission support to be delivered in-house, work through a school collaboration or cluster arrangement to provide a joint service, or access services provided as part of the broader, local network. What is commissioned should add value to and not duplicate what is already on offer elsewhere.
Funding support in your school
Funding is a significant problem for many schools in the current climate, and there are difficult decisions to be made about how resources are managed.
Find out more about school and local commissioning
Error loading Partial View script (file: ~/Views/MacroPartials/ResourceFIlterGrid.cshtml)