Making the most of staff relationships
Teachers and other staff members are key people in the lives of children at school – and you don't have to be an expert in mental health and wellbeing to make a difference.
There are very simple ways to make best use of everyday contacts to ensure that each child in a class feels supported, valued and nurtured.
How to make the most of staff relationships
It's important for staff to look after their own mental health and wellbeing and develop supportive relationships with colleagues. If they feel overwhelmed with school or life's challenges then they should seek support – either from someone at school or from a professional.
Reflection and relaxation: make time to reflect and relax every day.
Model positive behaviour: showing kindness, empathy, self-awareness, respect, and compassion. Be non-judgmental.
Staff should be aware of their own emotions and behaviours: children will take their cue from adults around them.
Notice each child in your class every day by:

Focusing on them; looking directly at them; showing with your body language that they have all your attention; that they are valued.
Inviting different children each day to do small tasks with, or for you.
Learning to sweep your gaze across the class so that children feel like they are getting some of your individual attention, however small.
Recognising that each child is unique and deserves respect and recognition from everyone.

Notice changes in children and act on them.
Encourage good communication and problem-solving skills, healthy coping skills and the knowledge and confidence for children to be able to seek help.
Provide ways in which children can talk about any concerns they have, for example circle time; speaking directly to you; a 'worry box' so that they can write their concerns on a note and 'post' it; speaking to a buddy in the class who can communicate with you; asking to speak to the school counsellor (if you have one) or another adult in the school that they trust.
If you're struggling with a child's behaviour in your class, or worried that some pupils are becoming withdrawn, try a different tack with them. Invite them, on a regular basis, to help you with a task 10 minutes before school starts, giving you an opportunity to give them individual attention and to start making more of a personal connection. Research tells us that a relationship with a significant adult in a child's life can reduce other risk factors. Sometimes all it takes is one caring, observant, kind adult.
If you have concerns about a child, consult with those on your staff who have training in mental health and wellbeing, for example, the SEND coordinator, school counsellor, pastoral care lead, specialist CAMHS, the DSL (designated safeguarding lead), mental health lead, etc. Also speak to a member of staff who has worked with the child previously.
Develop relationships with parents and carers to promote school belonging, to work collaboratively with them, and to help you understand the lives of the children in your class.
Don't forget – have fun with your class.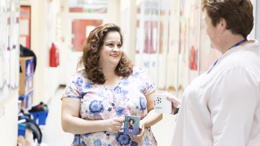 10 tips for school leaders and senior staff on supporting mental health and wellbeing
There are a number of ways that school leaders can approach supporting children's mental health and...
View resource
Author