Peer support
Peer support is about children feeling accepted and included by other pupils. It can help children feel like they belong in a school and can be an important factor in reducing bullying and conflict.
It can be encouraged in schools in both informal and formal ways.
Informal peer support
Informal peer support can be fostered, for example, by:
Teaching and encouraging in children key skills such as empathy, kindness, effective conflict resolution, listening, celebration, and acceptance of differences etc.
School staff modelling these qualities.
Encouraging children witnessing bullying to intervene positively to reduce this type of behaviour.
Formal peer support
More formal peer support broadly involves 'children and young people helping each other in a planned and structured way, with training to enable them to fulfil their roles'. Introducing peer support schemes can help:
Develop and strengthen children's social and emotional skills further through a culture of mutual support.
Enhance the promotion, prevention and early intervention systems in a school and help children feel more comfortable about talking to their peers about their worries.
Children feel part of the support system of the school. Everyone feels they have a responsibility to contribute towards a whole-school mental health approach and everyone learns coping skills for life.
Those children who are in supporting roles gain confidence, improve communication skills, self-awareness, empathy, resilience and interpersonal skills.
Children receiving support make progress and adjust more effectively to school life.
Peer support in primary schools
Informal help, such as playground support, fits extremely well into a 'whole-school mental health approach' where staff might equip children with the skills to look out for peers who appear lonely or are struggling to fit into friendship groups. Schools might formalise this, for example, by having a bench where children can sit if they want support; signalling a need for their peers to reach out. This sort of approach can involve all children, providing an opportunity for a school-wide intervention which helps pupils develop their awareness, empathy and support skills.
Schools sometimes use buddying systems where, for example, new children to the school are given a buddy to support them as they settle in. This could be a more organised approach to peer support where teachers invite children who are keen and who have the necessary attributes to become a 'buddy'.
Training children in basic listening/communication skills would introduce a more formal peer support system where children can access a specific space in the playground or school to seek support from older pupils who have been trained.
Case study
In my last school each child in reception was introduced to a year 6 buddy. The arrangement lasted for the whole school year and proved to be very effective in helping to settle the younger children into the school's routines; especially playtime and the dinner hall and giving responsibility to the oldest children. The reception children always played a big part in the end of year service for the year 6 leavers too.
Case study
A playground leaders' scheme worked very well in North Yorkshire schools for a number of years. The leaders all received proper training to lead a range of playground games, providing a focus for all children, especially those who often find it more difficult to join in.
Next steps – developing a peer support programme
The following steps can help you to develop a peer support programme in your school:
Identify needs in your school and who you are seeking to support.
Think about the behaviours, attitudes, values you are trying to cultivate and nurture.
Involve children, staff and parents/carers in the discussion and planning.
Start small and build on strengths and successes.
Introduce different types of peer support.
Seek advice from other schools and professionals/organisations.
Develop a programme to meet your school's unique needs.
Ensure there are staff and pupils championing the programme/s.
Gather data, review and report.
There is information available to help if you are considering using peer support in your school. While much of it is aimed at secondary school, there is also relevant information for primary. See the resources below.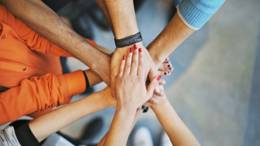 Peer mentoring toolkit
A peer mentoring toolkit.
View resource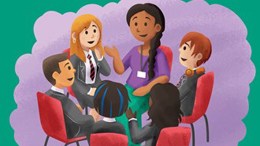 Peer Support for Children and Young People's Mental Health and Emotional Wellbeing Programme
This free programme provides resources, training slides and evaluation information on how to refine...
View resource
Author