About
Mentally Healthy Schools is a free website for primary schools, offering school staff information, advice and practical resources to better understand and promote pupils' mental health and wellbeing.
One in 10 primary school children aged five to 10 has an identifiable mental health condition – that's around three children in every class. Among this age group, boys are twice as likely as girls to have a mental health problem.  
The move to secondary school sees an increase in the number of children struggling, with one in seven children aged 11 to 16 having an identifiable mental health condition. However, during these teen years, boys and girls are equally likely to be affected. 
While more than half of all mental health problems are established by the age of 14, the factors that can put a child more at risk of developing a mental health problem can often be identified much earlier. If a child who is at risk isn't given early support, they may go on to develop a mental health problem. 
Early intervention is key to giving young people the best start in life. This website aims to give primary school staff the information and practical resources they need to best support pupils. 
Mentally Healthy Schools was launched in 2018 by the Duchess of Cambridge as a legacy of the Heads Together campaign. The website is a collaboration between three of the UK's leading child mental health and education charities.
What the site covers
The site is divided into four sections:
We have produced simple guidance to help you use the resources on the site.
Most of the resources are free, and all have been quality-assured by experts. However, there are a small number of evaluated, mostly licensed programmes that carry a fee, but have strong evidence of benefiting children – either through promoting children's social and emotional skills, or preventing or helping children recover from poor mental health. 
We are not expecting staff to become mental health experts.  If you are concerned about a child's safety or wellbeing please follow your usual safeguarding procedures and consult with your designated safeguarding lead or local authority. Please also see our tips on where to seek further advice.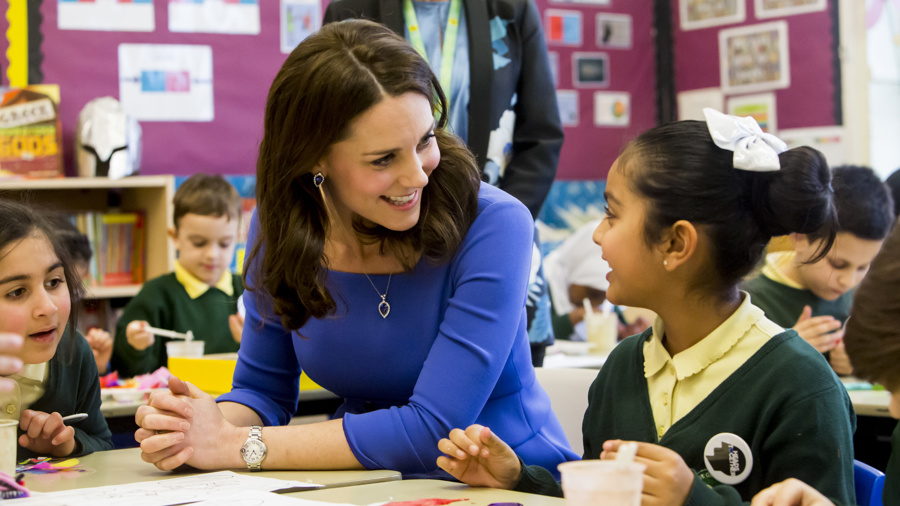 A message from HRH The Duchess of Cambridge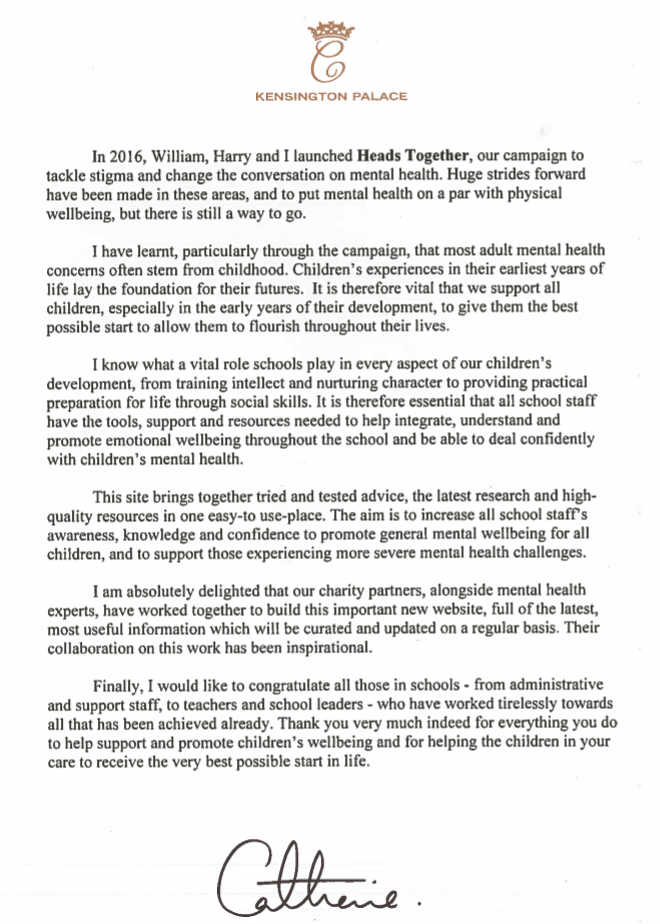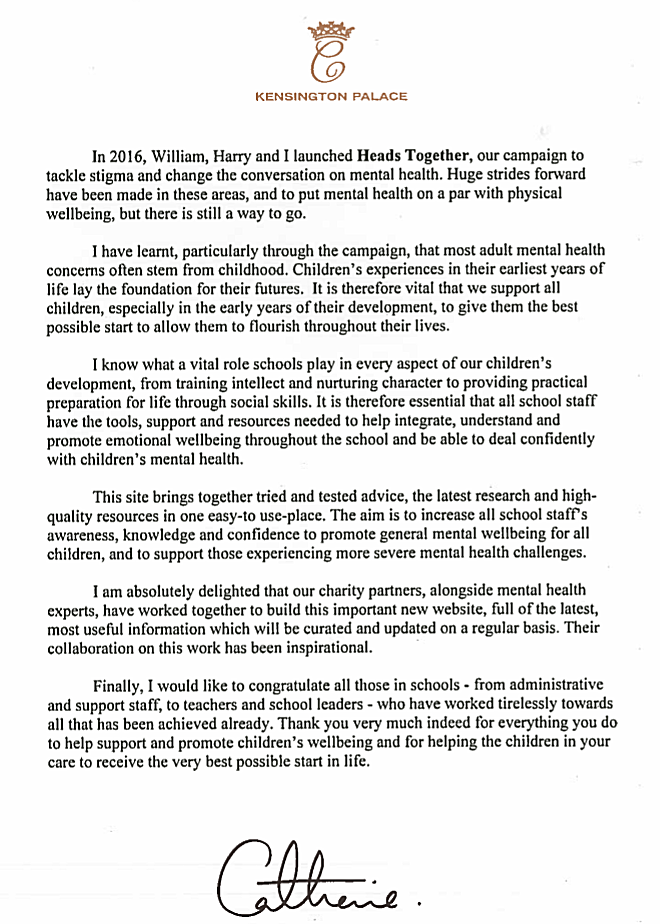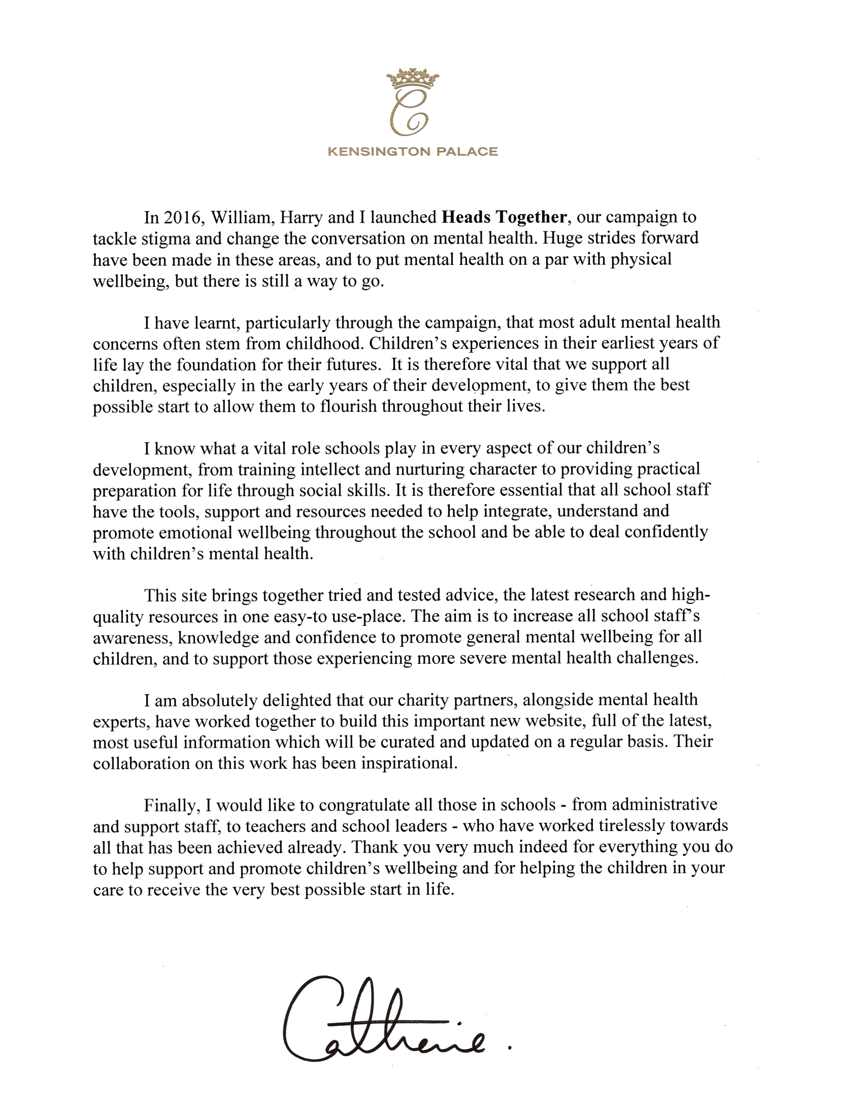 Partnership collaboration
Mentally Healthy Schools was launched in 2018 by the Duchess of Cambridge as a legacy of the Heads Together campaign. The website was founded as a collaboration between three of the UK's leading child mental health and education charities, the Anna Freud Centre, Place2Be and YoungMinds.
From April 2020 the site will be owned and run by The Anna Freud Centre.
The Anna Freud Centre will continue to expand the MHS site and will be launching the site across the UK in late 2020 with materials for primary schools in Northern Ireland, Scotland and Wales.
​
Quality assurance
The site is based on the best available research. Both the content and resources listed have passed through a rigorous quality assurance* process involving clinical and educational experts from our charity partners, as well as broader specialists in the field, to make sure they are:
Clear, accurate and convey a positive message about mental health.
Age and key stage appropriate.
Clinically safe.
Evidence-informed or based on Early Intervention Foundation criteria.
Suitable for all children.
Up to date.
Academic references have not been included in the text to keep the information accessible. Most key references underpinning the information can be found in the Centre for Mental Health's 'Missed Opportunities' report, which helped inform the need for, and development of, the site.
We know that there may be additional, useful resources that have not been identified. We are asking website users to send in recommendations, which will then be subject to the same quality assurance process we've used for all resources listed. 
Find out more about levels of evidence we've used on the site.
*Despite the rigorous quality assurance process for the resources, content and third-party services featured on the site, we cannot take responsibility for recommendations, links to other websites, resources or content on third party sites. 
Submitting a new resource
If you have a resource you think would work well on Mentally Healthy Schools, please let us know by emailing the resource to MHS@annafreud.org
All submissions will be reviewed against our quality assurance criteria. For paid-for resources, please make sure you read the criteria carefully before completing and submitting the form.
Tell us what you think
We are continually working to improve and develop the content on this website. We'd really like to hear from you on what you think works, doesn't work, and if there are any content gaps you've spotted. Please take a couple of minutes to fill in our quick feedback form.