What's mental health?
Your mental health affects how you feel, think and act. It refers to your emotional, psychological and social wellbeing. Your mental health can change and fluctuate on a daily basis and over time, and can be affected by a range of factors.
Just as it's important to look after your physical health, the same is true for your mental health. Your state of wellbeing affects how you cope with stress, relate to others, make choices, and play a part in your family, community, workplace and among your friends.
Good mental health among children
When children have good levels of wellbeing it helps them to:
learn and explore the world
feel, express and manage positive and negative emotions
form and maintain good relationships with others
cope with, and manage, change, setbacks and uncertainty
develop and thrive.
When children look after their mental health and develop their coping skills it can help them to boost their resilience, self-esteem and confidence. It can also help them learn to settle themselves, feel calm, and engage positively with their education - which can, in turn, improve their academic attainment.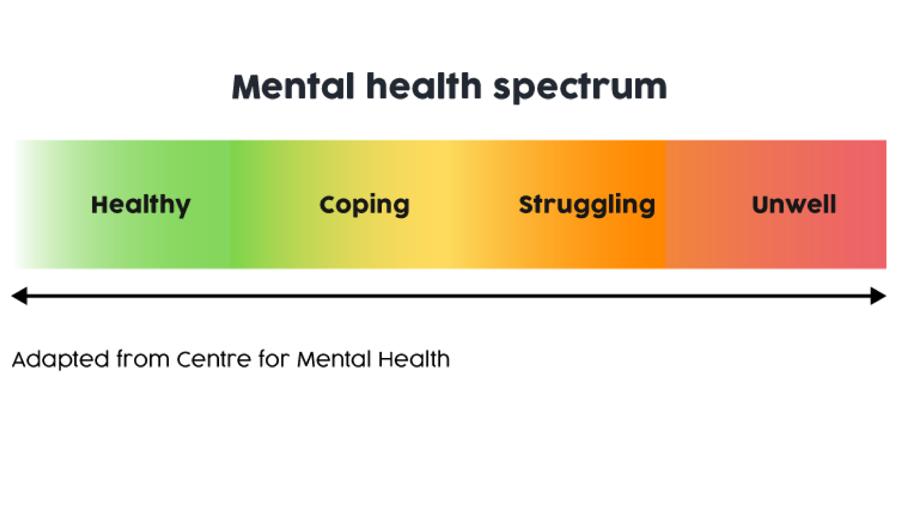 What affects children's mental health?
A child's mental health will be influenced by many things over time and, because children have different personalities, they will react and cope with challenging situations in different ways.
Risk factors
Protective factors

Children present with and will be exposed to a range of factors in their homes and communities that can affect their mental health – this is what we call "risk factors". Some children experience multiple risks, which means their mental health is more likely to be affected.

These risks come in many forms and may be the result of:

the child's individual characteristics (e.g. their temperament, communication difficulties, learning disability, etc.)
being exposed to traumatic experiences (e.g. abuse, domestic violence, bullying etc.)
changes in relationships within families or friends (e.g. divorce, separation, death and loss etc.)
broader society (e.g. discrimination and poverty etc.).

However, not all children who are exposed to risks will develop mental health difficulties.

There are lots of things that schools can do to help "protect" and support children so that they can cope better with any challenges that they may face.

These include important social and emotional skills to help child cope, such as being more resilient, knowing how to calm themselves, and feel confident.

Schools also need to make sure that they reduce school-based risk factors, such as bullying, and put in place support that helps children to feel that they belong and have positive relationships with their teachers and school staff, as well as other children.  
Read more on risks and protective factors
Identifying children who are struggling
The rate of poor mental health in children differs across the UK. Research for England suggests that one in 10 primary school children aged five to 10 has an identifiable mental health condition – that's around three children in every class. Among this age group, boys are twice as likely as girls to have a mental health problem. 
By the time children reach secondary school, one in seven pupils aged 11 to 16 has an identifiable mental health condition. However, during these teen years, boys and girls are equally likely to be affected.
While more than half of all mental health problems are established by the age of 14, the factors that can put a child more at risk of developing a mental health problem can often be identified much earlier. If a child who is at risk isn't given early support, they may have a greater chance of developing a mental health problem.
It's not always easy to spot a child whose mental health is deteriorating – and signs can often be overlooked until things reach a crisis point. But early action is the best thing schools can do to help give young people the best start in life.
How schools can support children's mental health
Schools can help children develop social and emotional skills providing them with the coping skills and tools they need to understand and manage their thoughts, feelings, behaviour, goals and relationships; as well as thrive, be self-aware, have confidence and be able to work in a team.
Schools can do this through teaching health and wellbeing education (RSHE in England, Personal Development and Mutual Understanding in Northern Ireland, and Health and Wellbeing in Scotland and Wales) and weaving these topics and skills throughout the broader curriculum and school life. Health and wellbeing shouldn't be taught in isolation but reinforced throughout the curriculum and the time that the child is in primary school.  
Social and emotional skills can prevent poor mental health from developing, help children cope effectively with setbacks and remain healthy. There are also lots of whole-school programmes that have been proven to help support all children – especially those who are most at-risk. 
There are lots of reasons why primary schools are the ideal environment to promote and support pupil's mental health and wellbeing:
most children spend a significant amount of time in school and with their teachers, which means that school staff are in a good position to spot a child who may be struggle, and help refer them to get the support they need

parents tend to approach schools first for advice when children are struggling or experience mental health difficulties

there is good evidence that

school programmes

which promote

social and emotional skills

can improve children's mental health and academic attainment

children with good mental health are more positive, engaged in school and can achieve better academically

early help can also prevent unnecessary crises, poor life chances and significant costs affecting the public purse. By tackling problems early on, schools, over time, will also see the financial benefits.
Being a mentally healthy school – where to start
Read our 10 tips on supporting children's mental health in your school for:

Understand the risk factors that may affect children's mental health.
Read our page on social and emotional skills and start to incorporate these skills into the curriculum and school life.
Help counter risk factors, such as bullying, by putting in place support mechanisms in your school or via community services.
Identify mental health problems early and signpost to where children, staff and families can get support.

Invest in building strong relationships with the children in your school. These will develop their sense of belonging, which helps to support children's mental health and achievement.

Browse our resource library for quality-assured lesson plans, activities, assembly ideas, toolkits, information and advice to get both staff and children thinking and talking about mental health and developing their coping skills.