Alcohol lesson plan and PowerPoint
Use this lesson plan, PowerPoint and accompanying videos to explore with your class the reasons why some young people choose to drink alcohol, and the impact this can have on their health, wellbeing and overall lifestyle.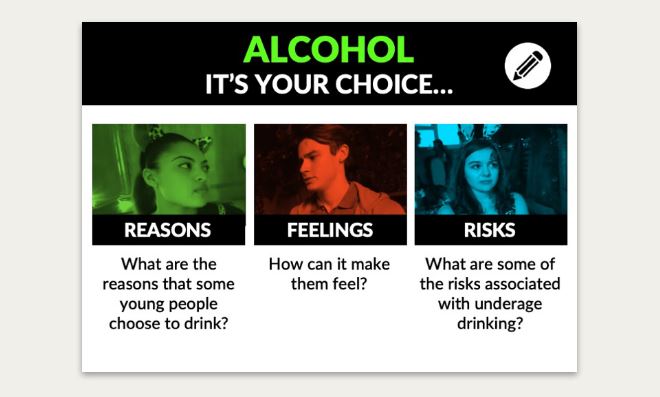 After this lesson, students will be able to:
describe the reasons why people drink alcohol and the impact it can have
identify and assess the risks of underage drinking
suggest strategies to manage peer pressure around alcohol misuse and identify sources of guidance and support.
Using this resource
This resource is designed for:
young people aged 11 to 16
use with whole classes
This lesson plan is just one of many lesson plans on different wellbeing topics, created by Public Health England for the Every Mind Matters campaign. They are all linked to the PSHE or RSHE curriculum.
Curriculum links
England - RSHE

Drugs, alcohol and tobacco

By the end of secondary school pupils should know:

· the physical and psychological risks associated with alcohol consumption and what constitutes low risk alcohol consumption in adulthood

· the physical and psychological consequences of addiction, including alcohol dependency