Online stress lesson plan and PowerPoint
In this lesson from Public Health England, students will explore the impact of using social media and the stresses it can cause.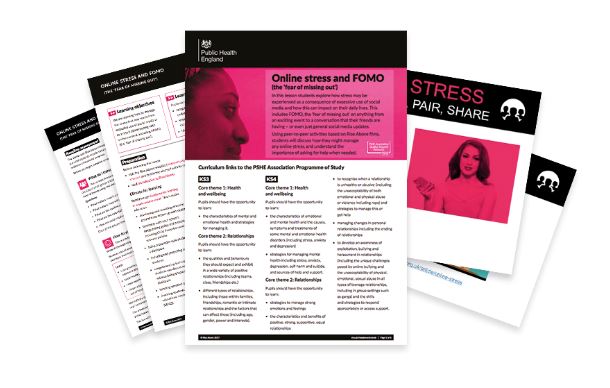 Students will learn about how stress may be a consequence of excessive use of social media and how this can impact on their daily lives. This includes 'FOMO': the 'fear of missing out' on anything from an exciting event to a conversation that their friends are having – or even just general social media updates.
Using peer-to-peer activities, students will discuss how they might manage any online stress, and understand the importance of asking for help when needed.
Using this resource
This resource is designed for:
young people aged 11 to 16
use with whole classes
This lesson plan is just one of many lesson plans on different wellbeing topics, created by Public Health England for the Every Mind Matters campaign. They are all linked to the PSHE or RSHE curriculum.
Curriculum links
England - RSHE

Online and media

By the end of secondary school pupils should know:

·  about online risks, including that any material someone provides to another has the potential to be shared online and the difficulty of removing potentially compromising material placed online